During the last several weeks, OFCCP has been conducting a series of Listening Sessions to collect information for incorporation into a soon-to-be-released Academic Technical Assistance Guide (TAG). This TAG will serve as a resource for academic institutions who are federal contractors...more
To date, the Office of Federal Contract Compliance Programs (OFCCP) has issued nine new and proposed directives in 2018. While most of the directives have been covered in prior articles, this article will provide more insight into the directives issued in September, as well as a few...more
Since the beginning of the #MeToo movement in October 2017, Congress and state and local lawmakers have introduced a series of laws aimed at eliminating sexual harassment and abuse in the workplace. As we explained in our June 2018 article, by mid-2019, over 125 bills had been...more
Ask the Experts is an online forum where federal contractors and subcontractors are invited to submit questions to industry experts related to OFCCP compliance, affirmative action planning, and equal employment opportunity. Simply register your company on LocalJobNetwork.com to submit a question. Questions and answers will occasionally be featured in The OFCCP Digest for the benefit of all readers.
Question: Applicant – Inactive Posting
Hurricane Michael Exemption Granted by OFCCP
OFCCP and ODEP Propose to Create Excellence in Disability Inclusion Award
OFCCP Offers AAP Exemption for Hurricane Florence Projects
OFCCP Enters into Memorandum of Understanding with National Industry Liaison Group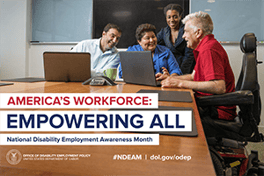 For more than 70 years, National Disability Employment Awareness Month (NDEAM) has been observed in the month of October. The theme for 2018 is "America's Workforce: Empowering All," as the focus is on acknowledging how crucial it is that all Americans have the opportunity to work for a living. NDEAM emphasizes the importance of valuing each person's skills and experience, including those of individuals with disabilities.
The opinions expressed in this newsletter are the opinions of the individual author(s) and do not necessarily reflect the opinions of the Local JobNetwork™. The information appearing in this newsletter is meant to provide the reader with a general understanding of topics relating to OFCCP compliance requirements and is not legal advice. If you are seeking legal advice to address OFCCP compliance issues or requirements, you should consult an attorney. The Local JobNetwork™ expressly disclaims all liability with respect to actions taken or not taken based on any or all of the contents of this newsletter.